Free Suicide Awareness Webinar – 5th September 2023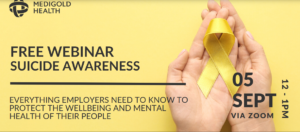 Ahead of World Suicide Prevention Day on 10th September, we invite you to attend our FREE webinar, 'Suicide Awareness – EverythingEmployers Need To Know To Protect The Wellbeing And Mental Health Of Their People. Taking place on Tuesday 5th September, the session will be led by Medigold Health's Suicide First Aider, Barrie Norman alongside our Chief Nursing Officer, Nicky Piper and our Training and Consultancy Product Lead, Kath Wood. Join us as we discuss the vital role employers can play in suicide prevention through raising awareness, educating their people on how to support someone who may be thinking about suicide, and taking steps to cultivate a positive mental health culture at work.
During the webinar, we'll explore:
The impact of suicide and common myths and misconceptions  How to spot the signs and symptoms and support someone who may be experiencing suicidal thoughts  The role of Occupational Health, including tips on writing a good mental health referral and advice on mental health workplace adjustments
How to develop an effective workplace mental health strategy How to equip your people with the knowledge and tools to support their own and others' mental health.
Click Here if you missed the live event