Armed Forces Day – 24th June 2023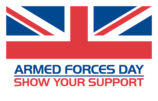 Armed Forces Day is a chance to show your support for the men and women who make up the Armed Forces community: from currently serving troops to Service families, veterans and cadets. There are many ways for people, communities and organisations across the country to show their support and get involved.
Showing support for the Armed Forces provides a much valued morale boost for the troops and their families. The UK Armed Forces defend the UK and its interests. They are busy working around the world, promoting peace, delivering aid, tackling drug smugglers, providing security and fighting terrorism.
Our Armed Forces couldn't do their job without the incredible support of their family and friends. Although Armed Forces Day is not a charitable event, the Armed Forces have the support of several UK charities and many local events will offer opportunities to support them.
Click Here to Get Involved