Westfield Health – Supporting working parents and carers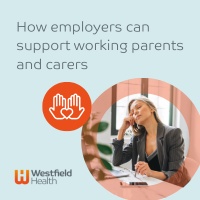 With an aging population and the recent announcement to expand free childcare, working parents and people with caring responsibilities will make up a significant proportion of the workforce. Organisations need to support employees with parental and caring responsibilities more than ever.
Join our webinar by Clicking Here to Register – where our panellists will discuss how organisations can support working parents and carers and create an inclusive and supportive culture.