Westfield Health – Normalising mental health support at work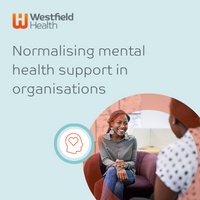 The average days off work due to mental health increased to 4.8 days per employee in 2022, costing businesses an estimated £18 billion. Westfield Health's recent research into the attitudes around mental health found that 30% of respondents felt their mental health had worsened in the past year. 51% said it had impacted their productivity at work and a third of respondents stated they have no support for their wellbeing at work.
It's clear there's a growing mental health crisis in the UK, but stigma related fears may prevent employees from discussing their mental health with their employer or line manager. So how can organisations normalise and improve conversations around mental health in the workplace?
To celebrate Mental Health Awareness Week, join our webinar to hear from our experts as they discuss how organisations can create a culture that prioritises mental health by challenging the stigma and highlighting the workplace support available.
Click Here To Register